Special & Personalized Plates
The Louisiana Office of Motor Vehicles (OMV) is excited to announce the release of the 2019 LSU National Championship license plate. LSU fans can now celebrate the perfect 15-0 season everywhere they go by purchasing the newest specialty plate offered to Louisiana drivers. Click the license plate below to begin the online ordering process.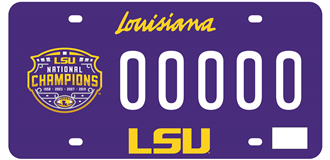 ---
Louisiana offers a wide variety of specialty license plates, as well as your choice of a personalized plate. Selecting the link under Online Services will allow you to view available plate options and submit your request online for OMV processing. Special plate selections will allow you to view applicable fees and print necessary paperwork to be mailed to OMV for processing. 
Important information for requesting a specialty license plate:
Vehicle must be properly titled and registered in your name in Louisiana.
Certain specialty plates have specific qualifications and eligibility requirements - take note of these when ordering.
Specialty plate fees vary. The fee calculation on this site is valid for regular license plates only. Calculations may change and are non-binding.
Contact the Specialized Vehicle Unit at 225-925-6278 or 225-925-6146 for assistance.