Heavy Truck Plate Calculator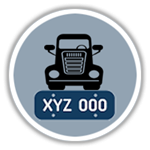 Louisiana trucks are registered by the gross vehicle weight rating (GVWR). GVWR is the net weight of the vehicle, plus the weight of the passengers, fuel, cargo and any additional accessories. License plate fees will be assessed based on the GVWR. The Heavy Truck Plate Calculator application will allow you to put in the weight of your truck to determine the price of your license plate fee. This application will show the license fee ONLY, and all other applicable title/handling fees are still required.
The following information will be needed to determine the fee for your truck license plate:
GVWR of the truck
The use type of the truck such as private use, forest use, gravel use, city use, or farm use
Note: The Heavy Truck Plate Calculator should be used to determine fees for initial issuance only. License fees for renewal may differ based on expiration of plate.